Publicly-traded biotech companies were required to adopt ASC 606 for their revenue recognition in their 2018 financial statements. Private biotech company companies must adopt ASC 606 starting in 2019. As part of the adoption process, companies must decide between two transition methods: the modified-retrospective method or the full-retrospective method.
Under the modified-retrospective method, companies will post a single adjustment to equity (typically retained earnings) on 1/1 to adjust the prior period's revenue to what it would be as if the company had adopted ASC 606 during the prior period. Companies can choose to adjust either unfinished contracts under ASC 605 or all contracts pertaining to the prior periods. Under this method, companies must disclose the impact of ASC 606 on all financial statement lines throughout 2018. Our sample data from publicly-filed financial statements suggest that most companies have selected the modified-retrospective method (see table below).
Under the full-retrospective method, companies must evaluate all contracts from the earliest reported period and adjust the revenue to comply with ASC 606. Due to the vast undertaking this method requires, the FASB allowed for three practical expedients: (1) contract starts and ends in a single annual period, (2) final transaction price for variable consideration contracts, and (3) no disclosure of share of transaction price for remaining performance obligations. For more information on these practical expedients, check out this article from RevenueHub.
We looked at the financial statements for fifteen publicly-traded biotech companies. A few interesting notes:
Of the companies reviewed, 80% of companies selected the modified-retrospective method for adopting ASC 606.
Of the three companies that selected the full-retrospective method, only one of them were audited by a Big 4 accounting firm.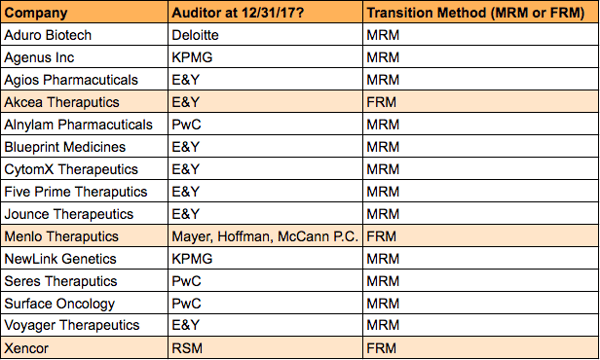 If you are a private company starting to assess the impact of ASC 606 on your collaboration revenue, please subscribe to our blog for more helpful articles and contact us to see our input-method revenue model.